Who Do You Let on Your Roof?

They are professionals, they need to be on my roof. I can trust they know enough to not cause any problems up there. But can you?
Excessive foot traffic on a roof is bad. But a lot of traffic from a lot of different people doing different things is really bad. Your roof takes a beating the more people you allow on your roof top. Tools may be left behind, parts of your roofing system may get damaged, and equipment brought up or installed may cause problems.
HVAC Contractors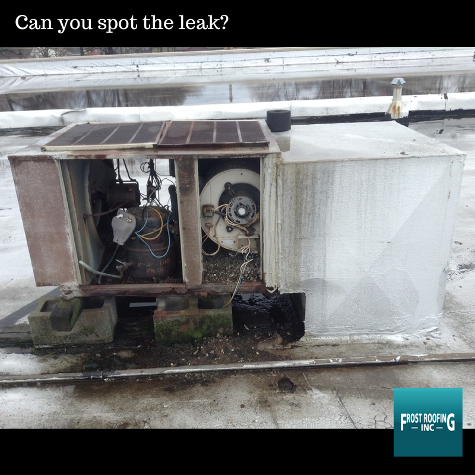 In this photo there are several obvious problems that contribute to potential or existing roof leaks: The unit itself, the "pond" or aka roof in the background, the wall in the center with haphazard wall flashing detail, and the alligatoring of the membrane in the bottom corner.
As a business owner you want to protect your roofing investment and all the assets your roof covers. As a HVAC contractor you want to make sure you work responsibly so the business owners you serve trust you for future repairs. Here are a few tips to keep in mind:
1. Don't drop unit doors onto the roof, it's membrane is not a concrete, solid surface.
2. Don't drag tools across the roof when traversing the roof.
3. The roof isn't meant to be a working surface, please use a protective work surface.
What Should I Do?
Keeping track of who is on your business's roof is not always easy and know who is doing what or who may be responsible for a leak can be frustrating to track down. It is best to communicate your expectations to any repairmen or contractors you hire that request roof access. More importantly, have your commercial roof system inspected periodically by a local roofing professional to make sure it is free of any damage and address any necessary repairs before they become a big, expensive problem. Our quick and reliable team at Frost Roofing is able to visit your business whenever you need us.