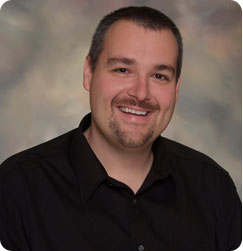 His name may be Little, but his impact on our community is big. We're not sure how Josh does it all, and does it so well. He is a community professional and natural leader with heart and ambition.
Josh Little was a 1999 Shawnee High School graduate and went on to receive a Bachelor's degree from the University of Toledo and a Master's degree in Human Service from Springfield College. He and his wife Amy have three children, Madeline, Gabe, and Charlie and call Wapakoneta their home.
Career
Josh started as a lifeguard at the South Toledo YMCA in 2000 working his way up to Program Director, then Associate Executive Director, and Executive Director before leaving in 2010. In summary, he has spent his entire adult career with the YMCA playing many influential roles from 2000-present day. His dedication to growing and improving the facilities he's been a part of is impressive and we're proud to have him as our YMCA's CEO right here in Wapakoneta.
Community Involvement
As a man of many facets, Josh Little has a lot under his belt. To briefly name a few things he's had his hand in we'll mention his involvement with the Wapakoneta Chamber and MoonFest committee, the local elementary schools' walking program, and Hometown Holiday Christmas event with Elaine Poppe. That's not all though! He is also a league official for the Western Ohio Athletic League, a member of St. Joseph Catholic Church, the Rotary (also a past president), and the current president for Sertoma.
If you know Josh, you already know he is a humble, high-achieving, intelligent man who sticks to his values. If you ever have the pleasure of meeting him, you'll gain a friend. Josh is not the type to ask for any recognition, but I think we can all agree, it's well deserved. If you're a YMCA member, take a moment to stop in and say hello this week. Thank you, Joshua Little for all you do at the Wapakoneta YMCA and for our community. You help make Wapakoneta a better place.​
Click here to learn more about the Wapakoneta Family YMCA