8 Unexpected Dangers of a Leaky Roof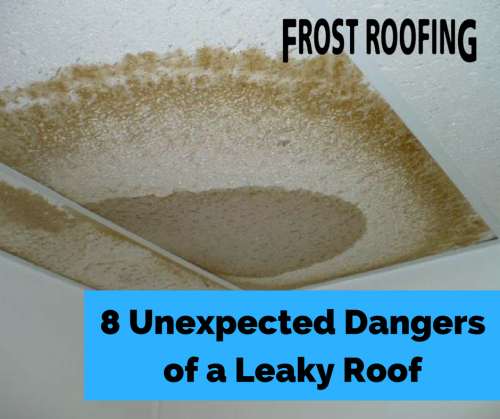 Water damage is no joke. Don't let a leaky roof ruin your business and safety.
There are many items on your company's maintenance to-do list. Some can be put off till later, but if a roof leak is one of them, it needs to be made top priority. There are a number of reasons the roof can spring a leak such as improper installation, traffic or storm damage, or lack of maintenance. Also consider the age of your roof as it could be time for a roof replacement.

So what's the big deal about a little roof leak? Most facility managers or business owners think of them as just minor structural issues. But here's the thing, if not repaired timely and properly, it could pose serious health and/or safety issues. Not to mention a bigger expense the longer it goes unresolved. Here are some ways a roof leak can cause problems:

1. Ceiling/Interior Damage
Paint, plaster, ceiling mounted lights and fans, and other items can become damaged. The area of the leak will leave a dark, stained, bubbled area.

2. Mold & Mildew
Long-term consequences of water intrusion is mold growth. Mold can do a lot of damage spreading throughout an entire structure and can be difficult (and costly) to eradicate.

3. Health Issues
Mold and mildew can cause serious health issues especially to those who are more sensitive.

4. Safety Hazard
Employees could be at risk of slips and falls if water ends up puddling on the floor.

5. Fire Hazard
If the leak is around any electrical wiring there is a risk of fire. It would be a good idea to turn off electricity to the area in question until an electrician has inspected the area.

6. Wasted Energy
Prolonged water intrusion can affect how your insulation performs. This means more hot or cool air will be lost. Not to mention, it take a really long time for insulation to dry once saturated.

7. Structural Damage
This is a big one. Chronic roof leaks can cause serious damage to your business's structure such as rafters, joists, framing, etc... wood deterioration means weakened area that may need replaced.

8. Product/Equipment Damage
This is where your business functions are affected. A roof leak, big or small, could damage your materials and/or equipment. Depending on where the leak is and what you have under your business's roof, this could be devastating.

Regular maintenance and hiring a commercial roof professional is key to keeping your roof performing the way it was designed. Find out how Frost Roofing can help you protect your business.
Let us worry about your roof so you don't have to! Sign up for our preventive maintenance program today.